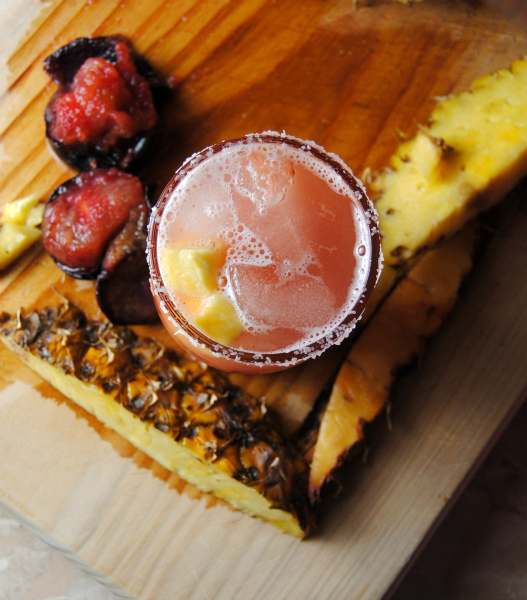 Plum Pineapple Margarita
I've been hoarding plums from my kids. Isn't that horrible?  Tiny piles, stashed near the fridge, next to the basket of potatoes where I know they would never look.
There I said it. Out loud. I'm a plum hoarder.
The thing is I picked up a few plums at the grocery store last week.  And they were SO juicy, plump and sweet I knew I just had to make a margarita.  
The next day they were ALL GONE.  All of them, what? This happened three times over the course of the last week. KIDS!
So late Sunday night I headed to the store in my raggedy jeans, along with my little sister and went plum picking, again.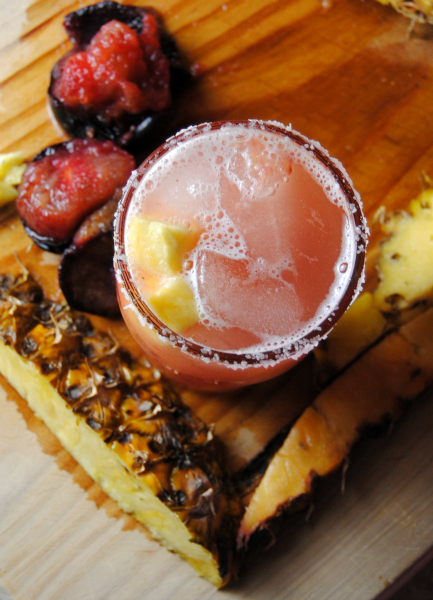 Then I went home and HID them, all of them.  Last night I retrieved my hidden plums and preceded to assemble my juicer when I heard tiny footsteps, and there they were.. these kids… I swear.
What's a plum hoarder to do? Give in and share. Can you blame them? They are SO juicy, plump and sweet.
Mother of the year I tell you.
Lucky for them I had half of a pineapple to throw into the mix and guess what? It made the margarita even better.  A sweet cotton candy shade of pink swirled with a pop of pineapple.  OH yes, so sweet!
Plum hoarding is overrated.  Enjoy!
Love Margaritas? Then be sure to stop by my Margarita Love page. 
Summer Fest with Food Network, join in on the fun.
Check out these fab food bloggers and their tasty creations!!
Ingredients, Inc.: Pork, Plums and Rosemary Kabobs
Virtually Homemade: Grilled Plum Pizza With Goat Cheese
Cooking Channel: Best Plum Dessert Recipes
BGSK: Grandma Esther's Plum and Walnut Cake
Delicious Lean: Plum Delicious Pork Chops
Daily*Dishin: Roasted Chicken With Plum Chili Salsa
Healthy Eats: 6 Ways to Cook With Plums
Napa Farmhouse 1885: Time for Plum Cobbler?
From My Corner of Saratoga: Plum Upside Down Cake
Cooking With Elise: Vanilla Plum Tart
Sweet Life Bake: Plum Pineapple Margarita
And Love It Too: Plum Pickin' Pineapple Jam
FN Dish: Perfect Plum Recipes
facebook Comments
comments