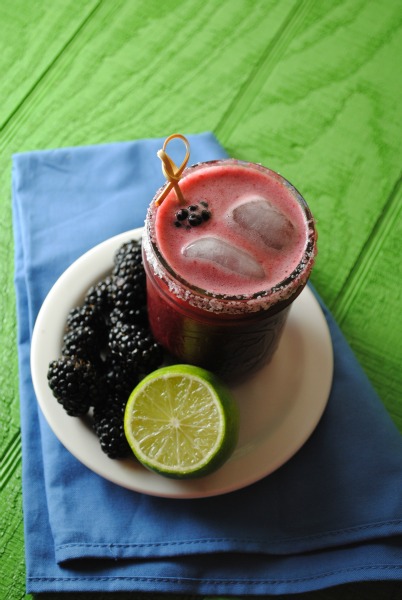 Blackberry Margarita
Mami spent her summer's picking blackberries, carefully washing them and sorting them in freezer bags for the winter.   We had a cluster of large bushes in our backyard that seem to explode overnight with blackberries.  Our next door neighbor would also collect as much as he could to make jam.  They would spend hours with a bucket at their sides, picking blackberries and talking. They talked family, friends and recipes. 
We were the runners.  We were in charge of carrying the crammed bucket inside, placing the berries in a huge strainer and returning the empty bucket.  As soon as our feet hit the kitchen we would cram as many of the plump berries into our mouths.  We thought we were smart, she knew.
One day I walked over to our neighbor's house to borrow a cup of sugar.  He was quietly stirring a huge stock pot of berries.  Slowly the wooden spoon would stir, stir, stir… 
"Is the jam almost ready?"  I asked
"Jam?" he said, no darling I'm making wine.
Blackberry wine.  Nice.
Well this sweet concoction might not be wine, but I'd like to think if my neighbor still lived next door to my mami today we would spend the day picking berries. But instead of making wine we would toast with a sweet margarita.
Love thy neighbor people!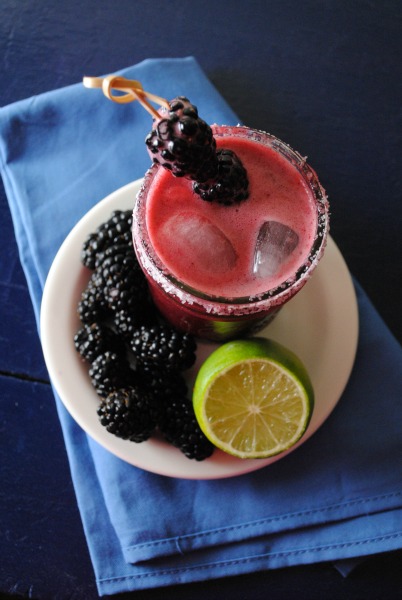 I'm happy to announce that I am now a member of the Cooking Light Blogger's Connection.
Please enjoy my first recipe with Cooking Light- blackberry Margarita from Cooking Light ~
facebook Comments
comments