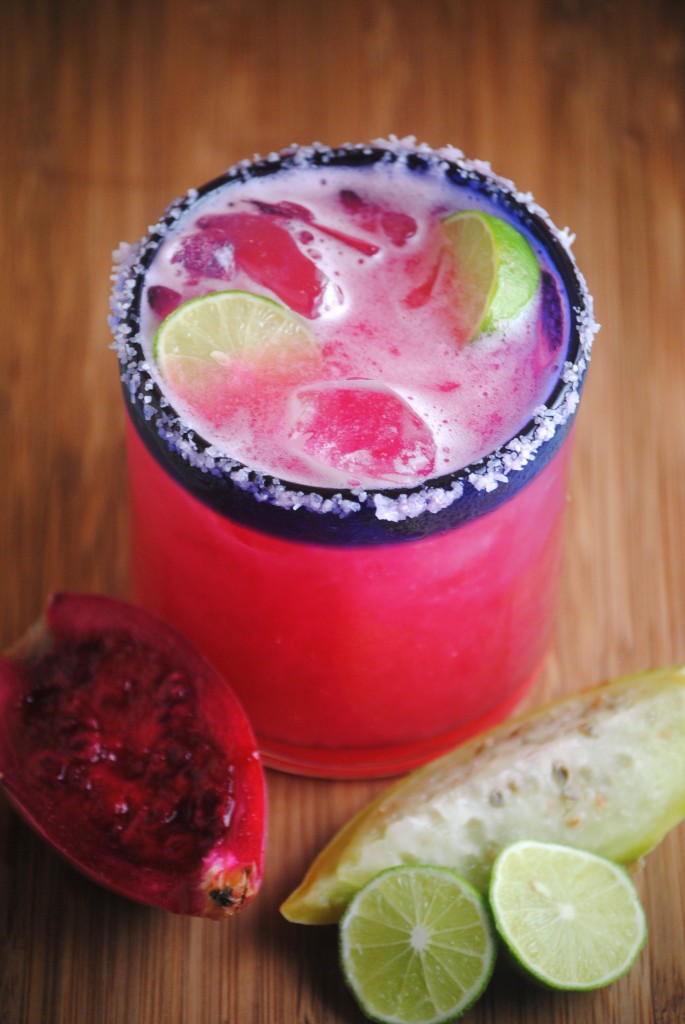 Happy Friday!!
Today is Mexican Independence Day!!  A wonderful day to celebrate independence, heritage, family and of course TEQUILA!!
Mexico holds a special place in my heart.  Mexico has given two of the most important people in my life, my parents!!
They were both born and raised in Mexico.  I have had the pleasure of spending many wonderful summers in Mexico enjoying family, friends and food.
Okay make that three gifts, Tequila!!  What would life be without Tequila?  Pretty lame I would think.
For the past two weeks I have been sipping glasses of fresh prickly pear water or agua de tuna in the evening with my meals.
In making pitcher upon pitcher I tried to remind myself to save just a little to make margaritas.  Two weeks later after leaving myself a sticky note on the pitcher I saved enough to showcase this pink beauty.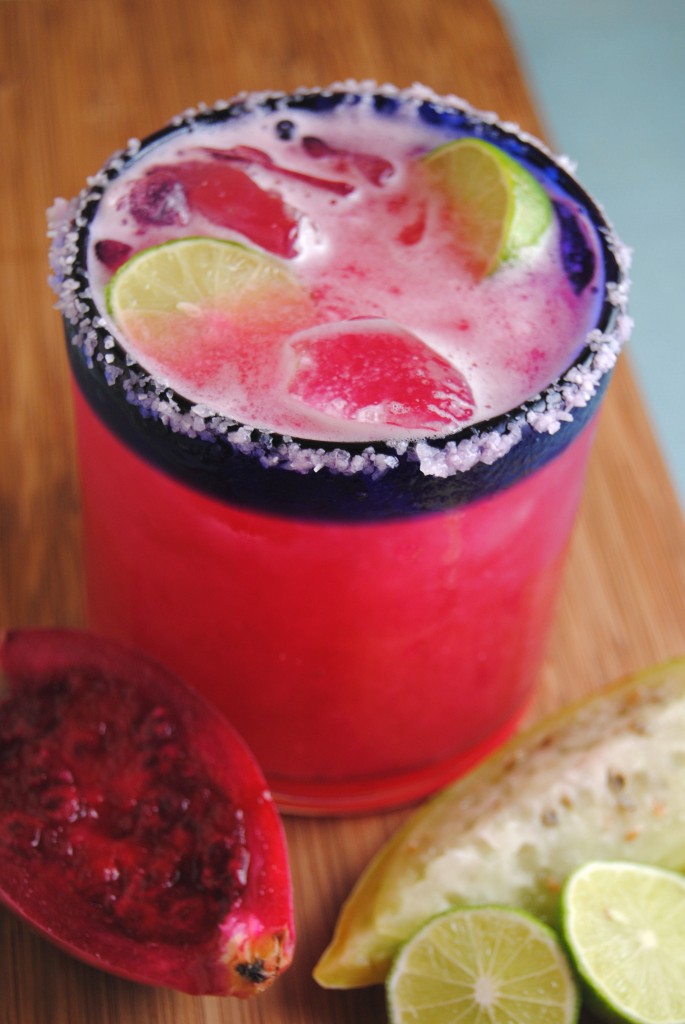 Prickly pears also known as tuna are the fruit found on nopales. In either red or green they can be found in many Latin markets in the produce section.  The outside skin contains spines so please be careful.
Our local grocery store has them with the spines removed or even peeled and ready to eat.  I prefer to peel my own simply for freshness.  The interior in lined with small seeds.  Your blender should have no problem breaking these down, but strain your water for any little bits that may have lingered. Enjoy!!
makes 2 quarts
from girlichef
1½ lb. tunas (prickly pears), purple or green
8 c. cold water, or to taste
1 c. superfine sugar, or to taste
Peel your tunas (prickly pears), halve them and throw them into the blender with a couple of the cups of water; purée until smooth.
Strain through a sieve into a pitcher to remove the seeds and pulp. Stir in remaining water and sugar.
Adjust water (and/or serve it over ice) and sugar amounts to suit your tastes.
~~~~~~~~~~~~~~~~~~~~~~~~~~~~~~~~~~~~~~~~~~~~~~~~~
Prickly Pear Margarita
by Sweet Life
by Vianney Rodriguez
makes 4 margaritas
salt
lime wedges
1 cup tequila
1 cup fresh prickly pear water
1/3 cup fresh lime juice
1/2 cup Cointreau
ice cubes
On a small plate spread salt.  With lime wedges moisten rim of 6 ounce glasses.  Dip glasses into salt.   Place glasses into freezer to chill.
In a pitcher combine tequila, fresh prickly pear water, lime juice and Cointreau.  Remove glasses from freezer and serve margarita mixture over ice. Garnish with lime slices.
Love Margaritas? I know I do.  Here's more great margarita recipes!
Margarita Mania
facebook Comments
comments